Do you own a business and you believe it's the right time you should get your own eCommerce website to sell your products? If that's the case, then what you require is an eCommerce development company to build a platform for your online experience. While there are plenty of options out there, there's only a handful of them which offers you all the benefits of running an online store and selling your product online.
However, the two most popular eCommerce platforms are BigCommerce and WooCommerce. They both are the widely used online platforms for building online eCommerce websites.
Choosing the best one can be quite overwhelming for business owners.
That is why I have done my research to let you know what is the best option for you.
Based on different factors, here's the blog, where I think both the e-commerce platforms stand in the online world.
What factors to consider before starting with an eCommerce platform.
Before you choose a particular platform as per the requirement you must address a few important things. These may include some key things such as,
Budget- Before starting an eCommerce store, check the average budget you're going to invest. Consult with top eCommerce development agencies in US to get an idea.
Ease of Use- Whichever online platform you choose, does it provide ease of access to handle issues.
Payment Gateways- Check how many different payment gateway integrations do the BigCommerce or WooCommerce support.
Scalability- Does the platform meet the requirement of scaling up your business when it needs to grow.
Here are some of the important things which you need to consider before starting your store. Also, at the same time, eCommerce vendors must also check if the eCommerce platform provides additional features to manage customer's invoices, taxes, inventory management, shipping, SEO etc. Just like every other thing, these additional features are crucial to make your website a thorough success. If the eCommerce platform you select won't provide these features, then you have to add them separately.
Below, let's compare both BigCommerce & WooCommerce to see which one is the best option.
Ease of Use
When it comes to BigCommerce, you get very easy to use platform where you don't have to worry about hosting or install any online applications. Also, you don't have to worry about setting up daily or weekly back-ups and security features that the platform itself handles. You will rarely find any performance issues.
For those who're just starting with a new online retail website, you get a separate custom domain with BigCommerce. If you already have an existing WordPress website, then you can use the BigCommerce WordPress plugin which enables you to sell products through BigCommerce and operate your blog from WordPress admin panel at the same time. All you have to ask a custom BigCommerce website experts to integrate BigCommerce to your WordPress.
On the other hand, WooCommerce isn't a fully-hosted platform because WooCommerce is a plugin that you'll need to install manually at the back-end of your WordPress website. It's easy to set up if you have an existing website on WordPress themes.
For professional help hire top-notch WordPress Development Company!
While setting up your online retail store is one thing, including different features and extensions is another. After setting up your online store on WooCommerce requires a bit of work to choose a unique theme & add additional features to make the store more attractive for buyers. And you have to take care of your security, backups, cache etc. WooCommerce websites require a bit of an effort to set up but it offers more flexibility than BigCommerce.
Design Flexibility
BigCommerce which is known as eCommerce for a new era comes 7 free themes, with over 50 more coming at a one-off cost between $145 and $245. It sounds much expensive, what you're doing is showing your customers who you're as a brand.
Studies show that repeat customers at the eCommerce spend up to 300% more than new customers. You only get one chance to make that first impression, so make it count.
WooCommerce has 14 storefront themes which all come at the additional cost of $39. Many eCommerce stores need to add storefront extensions to pad out their site, which range from free to $59.
But according to me, WooCommerce has the slight edge, it may be harder to edit than BigCommerce, but the theme of your site would be totally customized, and it's cheaper than any BigCommerce premium theme.
Build Time
Build time is the complicated sections for us to examine. Do you know why? Because the times it takes to build an eCommerce site with WooCommerce varies hugely.
Since WooCommerce is a WordPress plugin, you have to install WordPress before you can set up. If you have an existing WordPress site, then build time is relatively quick, as it's just a question of adding the plugin.
But in case your host doesn't automatically install WordPress, you can use an auto-installer that will let you do it within few clicks.
WooCommerce build time is comparatively long because you will have to sort our web hosting yourself and do some of your own codings.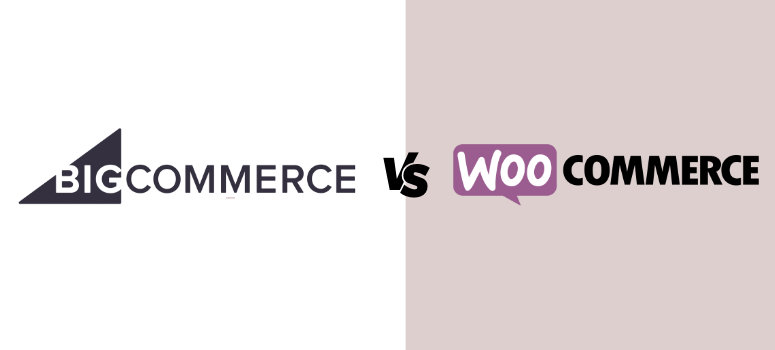 Payment Options & Fees
Accepting more payment gateways means more people from across the country can buy your products- it's that simple. But which builder supports the most?
First, it depends on whether you already have a WordPress site. Adding it to an existing site can be a relatively quick process.
Your valuable time is invested in WooCommerce's builder customization, however, editing it on your own can be very time consuming and if you don't already have a WordPress website, your building time will skyrocket.
By contract, BigCommerce is a one-stop platform, everything you require to build an eCommerce store is already in-built. And because everything's in one place, it's a lot quicker to get to grips with. If you put your mind to it, relatively you could get your online store in a day or two.
Yet, there are some more things to look out such as eCommerce features, pricing, tools, SEO, help and support.
Overall, I would recommend BigCommerce if you're yet to get up and running online. It's a one-stop solution that walks you through the process of building your own eCommerce products store.
Get Exaalgia web development services to expand your business and improve your online presence. Contact us today!
---
RECOMMENDED POSTS
---