Do you feel like you've done everything right, yet your company's website is still nowhere to be seen in Google's search results? Several things prevent you from showing at the top of Google. Many of them are easy to fix.
Below, we have explored possible reasons why your website is not showing up in Google and how to fix that particular issue either through own or via experts of SEO company in America.
Your website is new
It takes time to discover new websites and pages on Google. If you only launched your site this evening, then the most straightforward explanation is that Google just hasn't found it yet. To check whether your website is crawled, run a search for site:yourwebsite.com
If there are at least one to two results, then Google knows about your site. In case you see no results, create an XML sitemap and submit it via Google search console.

You're blocking SERPs from indexing your pages
If you add "no index" tag to tell Google now to show certain pages, then it won't. You can do that with a ''no index'' meta tag. If Google crawled your pages by sitemap and it will tell you that you have ''noindexed'' pages, use Google search console and click to ''coverage'' report to check details.
You're blocking search engines from crawling your pages
Most websites have robots.txt file that instructs search engines to do not crawl some pages. If you've submitted your sitemap via Google Search Console, it should alert you about issues related to this. Go to the ''coverage'' report section and look for ''submitted URL'' blocked by robots.txt errors.
You can also manually check via yourdomain.robots.txt.

You don't have enough high-quality backlinks
If nothing stops Google from finding your website, you still need to prove to them that it deserves to rank. To see the number of backlinks linking to your pages, paste your URL into a free backlink checker tool and get ''do-follow'' and ''no-follow'' links. The more you have backlinks from high DA PA websites the more chances you get to visible on search results.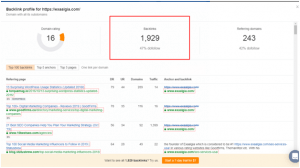 Your page is lacking ''authority''
Google's ranking algorithm is based on PageRank, which essential counts the total number of quality backlinks and internal links as votes. To check the URL rating of web-pages, paste the URL into a href tool, compare that to the UR of the top-ranking pages for your targeted keyword using keywords explorer. If top-ranking pages have a much higher UR score than your pages, it might be possible you have a lack of ''link authority''. To boost the authority of the web page build more backlinks and add more internal links.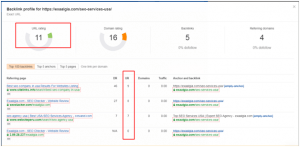 You have Google penalty
Having a Google penalty might be a reason for not showing up in Google. There are two types of Google penalties.
Manual- This is when Google removes your sites from search results, after when a Google employee manually reviews your website and finds that it doesn't comply with their Webmaster guidelines.
Algorithmic- This is when the Google algorithm suppresses your site or pages in SERPs due to quality issues. It happens when a computer says no than the human says no.
We use Google penalty recovery methods which are completely transparent to get you out of the penalty.
Final thoughts
Ranking in Google's search results is like playing a video game. Just fix severe technical issues like ''no-index tags, robots.txt before playing the game. Take the help of Expert SEO Company USA for professional help!
---
As the owner of Exaalgia for over 10 years, Satish Singh has helped businesses achieve success through SEO, PPC and other Internet marketing efforts. He is currently Google Analytics and Google Adwords Certified, as well as a certified Woorank Expert. Satish strives to remain up to date with the latest developments in technology and helps his clients improve and maintain their search engine rankings.
RECOMMENDED POSTS
---