Keyword Difficulty (KD) is one of the most important keyword metrics to be considered while researching keywords for a digital marketing campaign.
Keyword research is the groundwork of your online business content marketing strategies, these keywords determine how your site will rank on the search engine result page.
So the difficulty plays an important role in keyword analysis.  But what is the meaning of keyword difficulty and how to calculate keyword difficulty?
To understand the difficulty meaning let's see how keyword research is done.
SEO experts classify keywords according to the campaign such as organic SEO or PPC which is based on intent. According to the campaign, a set of keywords is selected for the project.
What are keyword metrics?
Keyword metrics are the indicators that how effective are keywords for your SEO content marketing strategy. Different SEO tools have different names for these metrics.
For keyword research, SEO professionals analyze these matrics –
Search Volume
Keyword or SEO Difficulty
CPC
Keyword Intent (SEMrush)
The two most important factors while doing keyword research are search volume and SEO keyword difficulty.
Search volume refers to the average number of users searched for a particular search term. And keyword or SEO difficulty is how difficult is to rank on SERP for that particular keyphrase.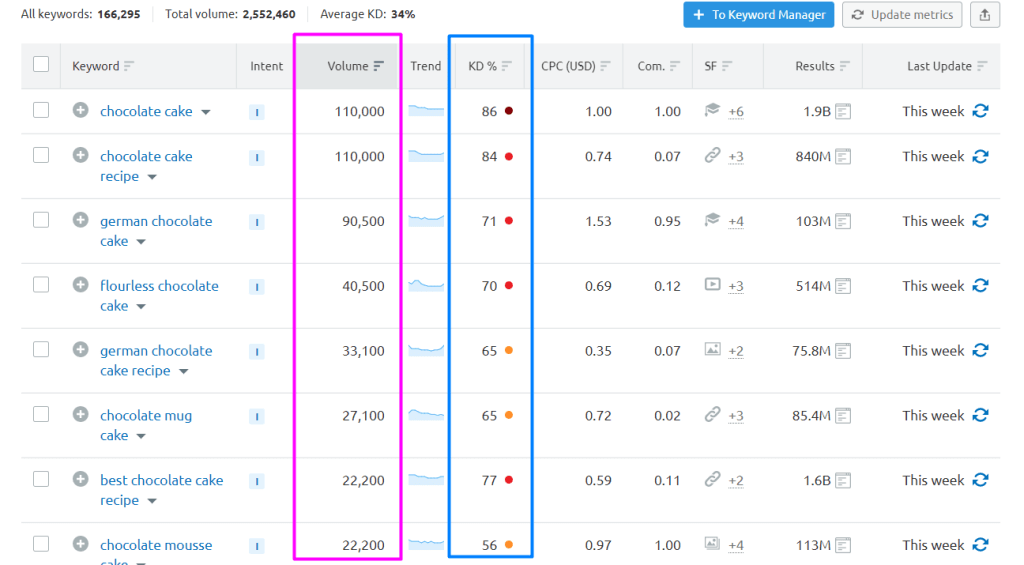 Let's dive into it-
What is The Definition of SEO Keyword Difficulty?
Keyword difficulty is also known as "SEO difficulty" or "keyword competition". It is a value that determines how difficult is to rank for a keyword. It is generally measured between 0 to 100 scores. The higher is score is more difficult is to rank on SERP.
SEO difficulty is measured on various factors such as content quality, page authority, domain authority, trust flow, etc.
Why It is important?
It's an essential metric along with monthly search volume it helps to decide the best keywords for your SEO campaign.
Note – Different SEO tools will provide different scores.
When choosing a keyword always maintain a balance between search volume and SEO difficulty. Ideally, you would want to target moderate difficulty or low competitive keyword terms with good search volumes.
It is because sometimes it is difficult to rank on top of SERP with your primary keywords even after you have well-written content. There are some factors that play a role.
Suppose you choose "chocolate cake" as your money keyword which has a KD of 86, so according to the SEMrush SEO tool it is very hard to rank for that word.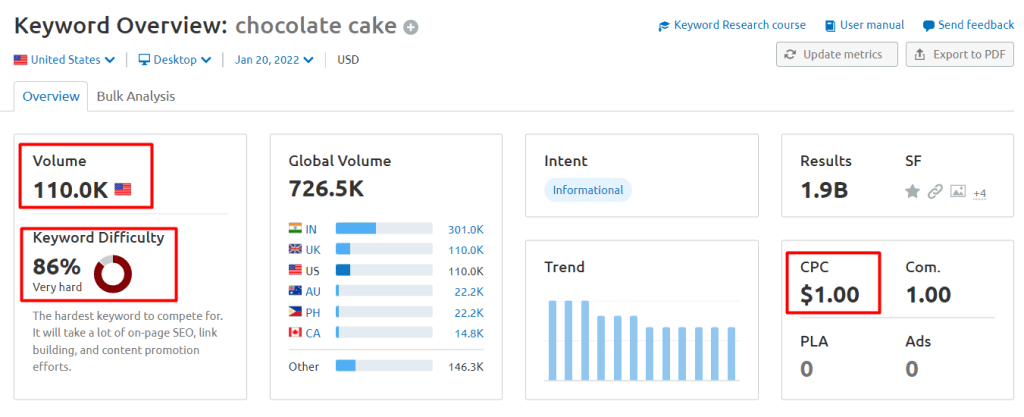 For this "keyword" the website "addapinch.com" ranks on SERP position 1.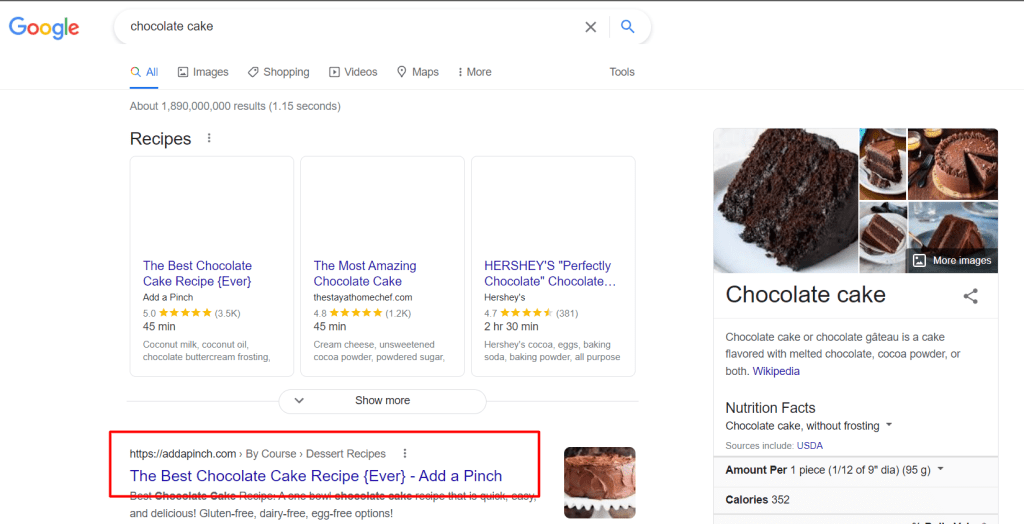 Following is an overview of the domain –

Website "addapinch.com" has an authority score of 58, total backlinks of 449.6 K, and total referring domain is 31.6 K.
So now coming back to your website, if you have a low authority score or just stated your online marketing website it will be harder for you to rank for such keywords.
To determine such keyphrases, the SEO difficulty score is an important factor.
How Keyword Difficulty is Calculated?
The exact keyword difficulty formula that keyword research tools like SEMRush, Google Keyword Planner, Ahrefs, and Moz use to calculate the SEO difficulty scores varies from tool to tool.
However, the basic factors that contribute to the keyword difficulty score are the same.
These are – page content, quality of backlinks, and domain authority.
As discussed above, keyword difficulty shows how easy or hard it is to rank a website or an eCommerce store for a particular user query. So, the factors for calculating SEO difficulty are similar to the ranking factors.
1. Page Content
We all know that content is king, so it is one of the major search engine ranking factors and hence, is also considered while calculating SEO difficulty by the SEO tools.
Pages with high-quality, relevant, useful content rank well because the ultimate goal of search engines are to provide the users with the most relevant pieces of information.
So, the content of your page should be relevant to user intent, and the keywords that you should target also reflect the same.
These keyword phrases are determined by SEO tools algorithms to provide competitive matrics.
2. Quality of Backlinks
The number of referring domains and the quality of backlinks is another important factor that contributes to a keyword's difficulty score.
Pages with a high number of 'do-follow' backlinks rank well and hence the keywords that these pages target will be challenging to compete on.
3. Domain Authority
Domain authority is like a website's online reputation in the industry in terms of how relevant and useful its content is. The higher the DA, the more a website is authoritative in that niche.
Since websites with high domain authority rank in the top results for the high difficulty score keywords, so, while calculating the keyword difficulty score, domain authority and page authority of the website are taken into consideration.
Keyword Difficulty & Target Keywords
By now we know that the keyword competition varies on a scale from 0 to 100. The lower the value, the easier it is to rank for the keyword on the 1st page of search results.
Keep in mind that the keyword difficulty score varies from tool to tool.
So while creating a target keyword list for your SEO strategy you must analyze this data.
Use this difficulty score to sort and filter long keyword lists for your business and then select the best keywords for your website.
Conclusion –
While keyword competition score is important to find the best keywords. But also keep in mind that the best idea is to select keywords and mix them up with easy to difficult words.
Also, Read – How to Research Keywords Using SEMrush
---
Reach Us to discuss more on keyword matric or hire our SEO services to find the best keywords for your website.