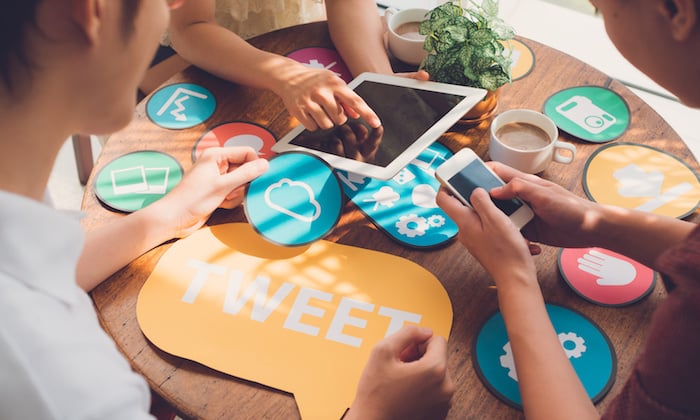 Social media platforms provide a wealth of traffic to your site. As you grow your social media presence, your ability to rely on social media traffic to your site or blog increases. Social media engagement requires careful planning by social media optimization experts, especially if there are budget constraints. It becomes a known variable in which brands can better measure and use strategically in their upcoming marketing plans. If you're running paid campaigns, it can elevate traffic. However, to get continual new and return visitors to your site, you will need to leverage social media. Here's how you can focus on one goal: driving traffic.
Optimize your Profile
What's the first thing people see when they visit your business page?
Your profile!
Whether it's your LinkedIn bio, Facebook about section or Twitter bio, your profile reflects your business information. That makes it perfect to tell everyone a little about your services and drop a link to your website.
Promote your Blog Content
You put tons of effort into writing a piece of content and to let the world see your latest masterpiece when only a few people have feasted their eyes on it. You can promote your posts on leading social networking channels. It's been found that brands who create 15 blog posts per month and share the content on social pages nurtured 1,200 average new leads per month- proving it's not impossible to get your piece of written content seen by ideal customers. You can take the help of the best SEO company in USA for your content marketing.
Businesses can even repurpose blog posts to get more use out of them. Options include-
Quoting different snippets of your article

Asking questions with your target audience

Varying your choice of images

Changing the headline of your article every 2-3months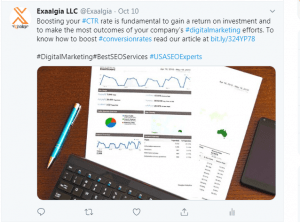 Focus on Sharing Visual Content
It's easy to scroll endlessly through social media feed and miss content that might be useful and interesting. Stop potential users from doing the same by sharing visual content like videos, infographics, Graphs, Animations, GIFs that stands out.  Did you know that visual content is 40 times more likely to get shared on social channels than other types of content?  
Engage with your Visitors Consistently
Social media enables marketers or business owners to engage directly with their target audience. You can answer questions and obtain feedback on your products or services in real-time and improve the experience have with your brand. Engaging and interacting with them is also an effective way to drive traffic to your site. Only 11% of people receive replies from brands, so you can really stand out with a few personal comments, and chats.
Optimize your CTAs
Even write the perfect tweet or Facebook post, only to check back and see how little engagement it actually received from the day first? 
It's disappointing, I know.
You can enhance clicks your social media shares receive by using call-to-actions in your post. CTAs tell a user exactly what you want them to do. Add phrases like;
''Click Here''
''Read More''
Or ''Visit our Site''
They will persuade interested users to actually click on the content you're sharing.
Final Thoughts!
You can grow your social media presence, drive traffic and sales using these five steps. 
About Our Company
Exaalgia is an experienced social media marketing consultant in Phoenix who takes care of your social media presence by creating a marketing strategy that fully satisfied your business needs. We'll work hand-in-hand to ensure your brand reaches the right audience online.
---
As the owner of Exaalgia for over 10 years, Satish Singh has helped businesses achieve success through SEO, PPC and other Internet marketing efforts. He is currently Google Analytics and Google Adwords Certified, as well as a certified Woorank Expert. Satish strives to remain up to date with the latest developments in technology and helps his clients improve and maintain their search engine rankings.
RECOMMENDED POSTS
---